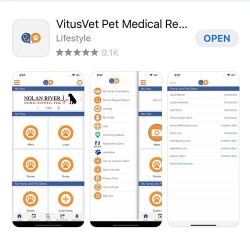 Nolan River Animal Hospital uses the VitusVet™ App. The VitusVet™ App is a life and sanity saving tool for pet owners. In addition to having all of your pet's medical records available in an emergency, the app helps you take the best care possible of your pets. Track major events and daily items such as medication reminders, walk times, current brand of pet food...even request family vet and specialist appointments. All members of your family and your extended pet care team will have login access to upload information and locate records through the VitusVet™ app. Just invite them to your pet's care team and start today!
When it comes to managing your pet's health, it's important to stay informed and organized. The VitusVet™ App makes keeping track of your pet's health a breeze by putting all of their necessary information in one place. It's a great tool for anyone with a single pet, multiple pets, anyone who travels with pets, and those with multiple pet care providers including veterinarians, groomers, walkers, sitters, and more.
MEDICAL RECORDS
Complete records at your fingertips.
Automatically available when your vet is part of the VitusVet™ network.
OR Upload them yourself using the app.
Share vaccination records with kennel/groomer.
FAMILY & FRIENDS
Share access with family members, friends, pet sitters, anyone!
Share everything that is important to know about your pet.
Add notes with photos to keep track of your pet's food no matter who is shopping that week.
REMINDERS
Easily create medication reminders and receive dosage alerts.
Set daily/weekly/monthly reminders for grooming, pet diet, vaccinations and more!
---