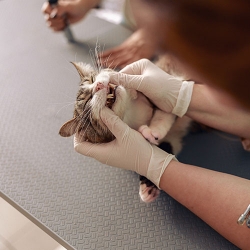 Pets have teeth too! Therefore, we provide dental services such as teeth cleaning, polishing, extractions and minor oral surgery. Imagine if you couldn't brush your teeth and the plaque and bacteria it creates eroded your teeth causing serious infections throughout your body.
According to the American Veterinary Dental Society, more than 80% of dogs and 70% of cats develop some form of dental disease by the age of three.
There are bacteria hidden under the tartar that will reach under the gum lines of your pet's mouth that could lead to bone loss if left untreated! With routine cleaning, plaque is controlled before it develops into gingivitis and periodontal disease.
Keep Your Pet In Good Health
Without proper pet dental care, bacteria is allowed to enter the blood stream, that can cause infection and inflammation of a pet's vital organs. With routine dental exams and teeth cleanings, we can also identify and treat fractures, tumors and other dental problems, which often go undetected.
Because two-thirds of an animal's tooth is below the gum line, professional oral cleaning is required to assure good oral health for your pet. It has a significant positive effect on your pet's general health and well-being. This is why it is so important that your pet has regular pet dental exams which we provide in conjunction with our annual wellness examinations.
If needed, we will recommend complete dental cleanings for your pet.
At Nolan River Animal Hospital, we are committed to complete dental health which also includes education about proper at-home pet dental care, an essential aspect of your pet's oral needs. We believe that dentistry is one of the most important parts of your pet's overall physical health because dental health affects your pet's overall physical health.
We will work closely with you to create dental treatment plans in order to ensure that your pet has the best dental care to live a long and high-quality life!